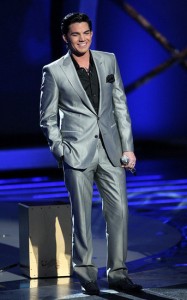 Reports are saying it all over the place: Queen invited Adam Lambert to join them as lead singer.
But is Adam Lambert next singer on Queen? It would be a huge career move, right? but is he up to it?
Adam Lambert joining Queen as lead singer
As Fox13 says so
Will he, will he rock you? Adam Lambert won't rule out a stint as the new frontman of Queen, but don't let that fool you into thinking the "American Idol" runner-up will make his living on the classic rock station. The legendary band has expressed interest in employing his formidable vocal skills, and Lambert is a big fan of the group once fronted by the late Freddie Mercury.
But the 27-year-old California native said Tuesday that he'd feel torn about joining the band.
"That's a tough question because, honestly, how do you say no to being in Queen?" said Lambert, sporting his trademark dark nail polish and blue-streaked hair. "I mean, that's unbelievable. But at the same time, I do have my own thing to do right now, and that's my goal. So if I could, I would try to do both. That's the honest question. I would try to do both. I would love to perform with them anytime they wanted me to but I also have my record to do. So, we'll see."
Lambert, a former theater actor, has ambitious plans for his post-"Idol" debut album.
"My record will be kind of a rock-pop-electronic-dance thing," he said. "I don't know how to describe it. I think it's gonna take on a life of its own, as far as genre goes."
The album is in the very early stages and Lambert aims to co-write much of the material.
On "Idol," Lambert was the resident glam rocker, staging elaborate, over-the-top performances and daring to don goth-inspired outfits (with guyliner) on an otherwise family-style show.
"There's a way to take the glam rock of the '70s and the classic rock of the '70s and kind of modernize it. … I want it to be produced in a very very current, almost futuristic, way. So we're going to come up with something really fresh," he said.
The musical mix will include "sexy, dance-y, vibe-y" numbers and more emotional songs that "appeal to people that are going through a hard time or don't believe in themselves," he said.
"I want to communicate the liberation that is being comfortable in your own skin and that is being your own person," said Lambert, who has largely kept his personal life under wraps. "And the spirit of being different, and how strong that can make you feel."
Any dream collaborators?
"Madonna would be amazing," he gushes. "I'd love to work with Madonna — I think she's a genius. She has great ideas. Lady GaGa is brilliant. She's got her finger on the pulse. She's the hot thing right now. Katy Perry's amazing, absolutely amazing."
So… do you like the idea of Adam Lambert singer of Queen?
Comments
comments