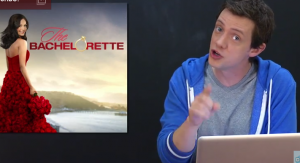 Where is the big source of all things spoilery? Mostly Twitter these days. After all people react in the exact moment to what they are watching with no regards to who is following them that may be in a different time zone, or DVRing the shows. Hence, tons of spoilery contents on Twitter. And, as we already talked a lot about in previous posts, Daily Rehash is the show on Ora.TV that delves into what people is saying on Twitter, so this time, actually they had a lot of curation to do to find the best tweets around about The Bachelorette, and keep it also Spoiler Free. Eric Artell, as usual is his funny self and even takes some of the tweets personally, making it funnier.
Eventually, the host summarizes this thing about Twitter as the spoiler hell by saying: "Why are you on Twitter if you haven´t watched The Bachelorette yet?" Correct! Why? unless you are not planning on watching, there´s no reason to complain then.
So now, without further ado, watch Bachelorette Spoiler Free Recap on Daily Rehash:
So, what are you waiting for? Watch the video! It´s just a few minutes.
To watch more episodes of Daily Rehash, click here to visit Ora TV!
Comments
comments