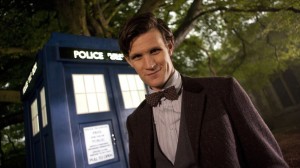 Doctor Who has been around for decades, but there have been reinventions, and changes in the doctors, and new series along those long runs, now, in the new run helmed by Steven Moffat, Doctor Who got renewed by BBC for season eight. And that´s as usual great news, for the show will come back for another run next year.
Still to air four more episodes on Season Seven, and already the news for season eight. Starring Matt Smith and Jenna-Louise Coleman, Doctor Who embarks on the final four adventures of series seven. Here is what you can expect from the dramatic concluding episodes.
Episode 10: Journey To The Centre Of The TARDIS
A spaceship salvage team drags the TARDIS on board, sending its systems into meltdown. As the Doctor marshals the motley salvage crew outside, he realises Clara is still trapped within his malfunctioning ship, pursued by a dangerous group of ossified monsters. He has just 30 minutes to find Clara and save his TARDIS before it self-destructs.
Episode 11: The Crimson Horror
There's something very odd about Mrs Gillyflower's Sweetville mill, with its perfectly clean streets and beautiful people. There's something even stranger about the bodies washing up in the river, all bright red and waxy. When the Doctor and Clara go missing, it's up to Vastra, Jenny and Strax to rescue them before they too fall victim to the Crimson Horror!
Episode 12: Nightmare In Silver
Hedgewick's World Of Wonders was once the greatest theme park in the galaxy, but it's now the dilapidated home to a shabby showman, a chess-playing dwarf and a dysfunctional army platoon. When the Doctor, Clara, Artie and Angie arrive, the last thing they expect is the re-emergence of one of the Doctor's oldest foes. The Cybermen are back!
Episode 13: The Name Of The Doctor
Clara is summoned to an impossible conference call, alerting her that the deadly Whisper Men are closing in on Vastra, Jenny and Strax. Someone is kidnapping the Doctor's friends, leading him toward the one place in all of time and space that he should never go. It's a deadly trap that threatens to unravel his past, present and future…
What do you think? Are you happy Doctor Who got renewed? Follow me on Twitter for more scoop on shows getting renewed like Doctor Who, or check the complete and updatable lists of renewed shows of 2013 and cancelled shows of 2013.
Comments
comments