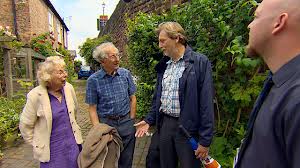 Another announcement for a show getting the callback, but in this case, it includes some kind of reinvention, as the show will also change its name. BBC renewed The Planners but now it will be known as Not In My Back Yard.
David Williams, Creative Director Entertainment North, says: "It's shaping up to be a fantastically busy and exciting few months ahead and it's testament to the breadth of talent in Salford that we're looking forward to such a rich and varied diet of new and returning programmes."
Second season of The Planners, first one as Not In My Back Yard will consist of eight one hour episodes set to air next year.
The popular observational documentary series returns with a new title – Not In My Back Yard – and some new Planning Officers, who once again will be grappling with the Government's controversial changes to the UK's Planning Laws, not to mention over-ambitious developers, misguided home-owners and furious residents.
Behind every 'Approved' or 'Refused' planning application there is an army of homeowners, neighbours, developers, architects, builders and objectors all dealing with the fallout from the decision. Caught in the crossfire are the UK's Planning Officers, who are charged with overseeing each planning application, interpreting the new rules, making a recommendation and optimistically hoping that everyone agrees.
One episode in the series will return to some of the most memorable disputes and decisions featured in the first series to discover whether the decisions have become bricks and mortar reality.
The series producer is Dympna Jackson and executive producers are Kieron Collins and Pam Cavannagh.
Pam Cavannagh says: "The Planners struck a chord with the audience by showing the process of planning across the UK. Not In My Back Yard will continue to do the same as we follow more great characters in Britain's planning offices."
What do you think? Are you happy The Planners got renewed? Let me know in the comments section. Follow me on Twitter for more scoop or check the complete and updatable lists of renewed shows of 2013 and cancelled shows of 2013.
Comments
comments