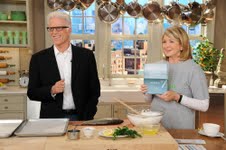 Martha Stewart keeps getting great stars invited time and again. This time "Cheers"  alum and environmentalist, Ted Danson was "Bored to Death" on today's special "Green Show" edition of THE MARTHA STEWART SHOW (Hallmark Channel, 10 AM ET/9 AM C – same day encore airing, 2 PM ET/next day airing, 1 PM ET).  While Ted joined Martha in the kitchen to chat about his involvement in the wildly successful foundation, Oceana, which sets out to save the world's oceans, they prepared Salt Baked Striped Bass.  Asking Ted to chit-chat about his current projects while preparing the fish proved to be a challenging task:  "I can't talk and cook at the same time. This is impossible…Bored to death, Martha. I am bored to death!," making an off-the-cuff reference to his HBO series of the same name.  Ted also talked about some of the leads in new movie, Everybody Loves Whales, but surprisingly, they don't have legs, they have fins:  According to Ted, "They were…electronic robotic whales…It's very hard to get a good whale actor nowadays."
Best Quotes from Ted Danson on Martha Stewart Show
TED DANSON ON HBO'S BORED TO DEATH:
MS: What are you working on right now?
TD: Bored to Death. I can't talk and cook at the same time. This is impossible.
MS: You're an actor you have to make believe.
TD: I'll pretend to cook. This is how I cook. Yeah, Bored to Death on HBO with Jason Schwartman and Zack Galifianakis. It's very, very funny.
MS: Bored to death. So when I asked you what are you doing now and you said bored to death?
TD: Bored to death, Martha. I am bored to death.
MS: That's good.
TED DANSON ON CAVITIES:
MS: Put some sliced lemons right inside the cavity. Put some parsley and dill in the cavity.
TD: Cavity is not a good word, but go ahead.
MS:  Why not?
TD: I don't know. It doesn't feel like you want to eat it.
MS: Oh, you don't eat the cavity.
TD: That's true.
MS: You eat what's around the cavity.
TD: Well said.
TED DANSON ON EVERYBODY LOVES WHALES:
MS: Now what about the film you're working on? I am very interested in that.
TD: Oh yeah we finished it up in Alaska. It's called Everybody Loves Whales with Drew Barrymore, John Kransinski, Kristen Bell and a lot of wonderful actors.
MS: And what's it about?
TD: It was a true story about these three grey whales that got trapped in ice and it became this celebrity cause where everybody…Reagan, oil companies, Russians, the world, stopped.
MS: What year was this?
TD: 1988.
MS: So 1988? Did they save them?
TD: Two out of three. The baby did die but its kind of a comedy with heart.
MS: Did you have whale actors?
TD: Yeah, we did actually. They were made in New Zealand and shipped up. They were these electronic robotic whales.
MS: Oh really?
TD: Yeah.
MS: Are they very life like?
TD: They are, it's very hard to get a good whale actor nowadays.
MARTHA STEWART AND TED DANSON ON COOKING AND SWEARING:
TD: Oh shoot! Oh my God. I say that at home when I cook too. Shoot!
MS: Slowly, until it emulsifies. No! More! It has to emulsify! A little at a time! I meant in a drizzle.
TD:  I'm just thrown for a loop.
MS: No, you're not. You're doing a very good job. Now a little salt and pepper. A pinch.
TD: How's that?
MS: That's good. Add some salt. Ok, maybe a little bit more.
TD: Do you ever swear when you're cooking?
MS: Oh neverrr! I never swear actually.
What do you think about Ted Danson on Martha Stewart Show? Let me know your thoughts
Also, remember to follow me on Twitter for more Martha Stewart scoop.
Comments
comments