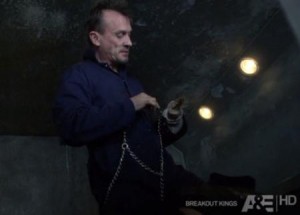 I guess the official description of the new episode of Breakout Kings called The Bag Man does not paint the full picture: A man with a prosthetic hand escapes and goes on a crime spree, and the team tries to catch him before he crosses the Canadian border.
What should say is: T-Bag´s back, T-Bag´s back!
The new show from Prison Break creator Matt Olmstead found a way to bring back Theodore T-Bag Bagwell, definitely one of the best characters on that show, and Robert Knepper was also the guy who brought the life back to Heroes before cancellation.
So, having him escaped and the Breakout Kings having to get him back is something that got me psyched ever since folks at A&E announced he would be going bak to play T-Bag for Breakout Kings.
Oh how I missed you Fox River penitentiary!
Best Quotes from Breakout Kings S01E03 The Bag Man
T-Bag: Well it´s about damn time
T-Bag: Let´s take a walk boy
T-Bag: I got two dead bodies in that truck and I can easily go to the trifect
T-Bag: I got a gun and you got a son
Charlie: Get out, no sitting
Lloyd: I got it, I got it, I got it
Lloyd: Theodore Bagwell, T-Bag?
Lloyd: He´s incredibly smart, and charming, and he can appear completely normal, but of course he was originally incarcerated for raping and killing a bunch of teenagers. Not necessarily in that order.
Ray: When we find him you can ask for his autograph
Lloyd: We cannot underestimate this guy
Ray: What do you want? A gold star now
Lloyd: Let´s go. You say let´s go all the time. I wanted to say it. It felt good to say it.
Erica: I thought you were some kind of child prodigy
Shea: Top two reasons a man breaks out of prison: Women… and women
Mrs Plump: You are something else
T-Bag: You have no idea
T-Bag: There´s only one woman I´m interested in seeing right now
Lorraine: Who´s there at the door, Wayne?
Wayne: Nobody Lorraine
T-Bag: Actually, Wayne, payback´s at the door.
Mrs Plump: He was so nice to me. I really thought he liked me
Lloyd: This guy has killed four people since he escaped, that we know about. I know it sounds sick, but you are probably still alive because he did like you
Shea: Damn, poor man looks like a swiss army knife
Lloyd: Yeah, he also peed on him
Shea: You´ve been watching too many Law & Order Ray
T-Bag: Time to feel as much pain as you caused
Lloyd: This is not a hospital. This is a pick up bar for the Grim Reaper
Lloyd: I tell you: T-Bag is going to see his momma
T-Bag: I got ´em momma, I got ´em
T-Bag: Now, I won´t be seeing you in heaven, but you enjoy it for the both of us
Charlie: At least coffe´s free
T-Bag: Are you a doctor? Cause you got the arrogance of the white coat
T-Bag: I am his gatekeeper to life or death
Lloyd: Some machines come out the factory broken. You are a broken machine
T-Bag: No shit
What did you think about Breakout Kings The Bag Man quotes and spoilers? Let me know in the comments section.
Also, remember to follow me on Twitter for more Breakout Kings spoilers, quotes and scoop.
Comments
comments