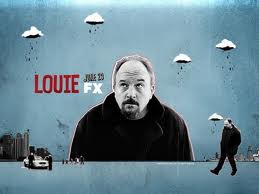 More and more information on the front! Oh this Television Critics Association panels! And this one´s for our of review of all the cancelled shows on 2011 and the renewed shows on 2011…
In this case a show that was looking with tons of chances of renewal, since the sophomore season gained 56% viewers. Louie gets renewed by FX for a third season and looks like a no brainer. This is done the same day as FX renewed Wilfred US. And since the network is planning to reach to 5 drama scripted series and 7 comedy scripted series in its roster, FX renewed Louie for a third season.
Louie CK, the star of the show has been nominated for an Emmy award for the show, which averages 3 million viewers, both things combined earned Louie the renewal from FX.
Third season renewal order for Louie consists of 13 episodes and will air in 2012 and it will probably also land "the gig" in Canada when FX launches FX Canada in November.
What do you think? Are you glad to see FX renewing Louie for a third season? Let me know in the comments section.
Also, remember to follow me on Twitter for more Cancelled and renewed shows news such as this renewal for Louie by FX.
Comments
comments