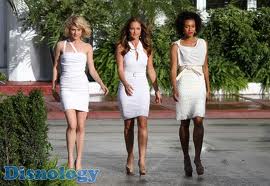 New info to update lists for renewed shows on 2011 and all the cancelled shows on 2011, and in this case, one that was expected in the form of an axe.
ABC Cancels Charlie´s Angels reboot project after only a hdanful of episodes.
I said it minutes after the premiere, anyone who kills off My Name is Earl´s Catalina in the first ten minutes of a show is making a big mistake.
The numbers did not help at all the cause for Charlie´s Angels renewal, since they started slim, and then drop some, hitting the lowest point at 1,2 in the adult demo.
Specially for a much buzzed about show on a good timeslot, it is too little, and gaining 0,1 in the fourth ousting is too little too late to save it.
The show has shut down production altogether, and the rest of the eight episodes already filmed are going to air as normally as possible on ABC, while the network is preparing the replacement.
What do you think? Are you sad ABC cancelled Charlie´s Angels after four episodes? Were you among the few who watched Charlie´s Angels on ABC? Let me know in the comments section.
Also, remember to follow me on Twitter for more renewed and cancelled as Charlie´s Angels shows scoop.
Photo credit: Disnology.com
Comments
comments