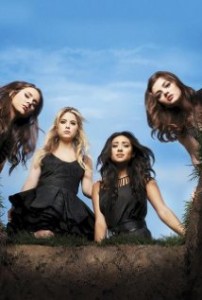 The year is not over, and that means, there is still Information coming to fill the renewed shows on 2011 and all the cancelled shows on 2011 lists.
And in this case a piece of no news, since it was just a matter of time and official confirmation, since the show is a big success to the network.
ABC Family renewed Pretty Little Liars for a third season. And the show is moving closer and closer to the syndication mark, since after a second season of 25 episodes, season three renewal order for Pretty Little Liars is for 24 more episodes.
ABC Family has managed to get a very solid "triple threat" as ABC Family´s president Michael Riley puts it when ou consider that the cabler has Switched at Birth and The Secret Life of The American Teenager to pair up with PLL.
Therefore more in the mystery of A and how he/she/it has a hold on the girls. More PLL to come!
What do you think? Are you happy ABC Family renewed Pretty Little Liars for  a third season? Let me know in the comments section.
Also, remember to follow me on Twitter for more cancelled and renewed as Pretty Little Liars shows scoop.
Comments
comments