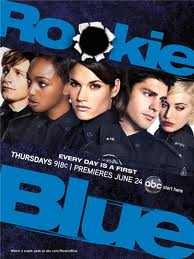 Once again, we are reviewing all the cancelled shows on 2011 and the renewed shows on 2011…
ABC renewed Rookie Blue for its third season, and although this show is not a juggernaut, the drama ranks No. 1 in its Thursday at 10 slot among adults 18-49 and ABC says Rookie Blue is producing year-to-year gains, improving by 8% in total viewers and by 14% in adults 18-49 versus the network's averages in the hour last summer.
It´s always good when a good show gets the nod to continue on television, and Rookie Blue is proving to be an interesting force to be rockoned with as a solid summer show, that probably won´t ever make the move to the fall, but can be a great source of viewership for the network while they wait for the fall to come back.
Rookie Blue gets renewed for third season, and the Toronto based production show will come back next summer.
What do you think about ABC renewing Rookie Blue? Are you happy you will see it back? Sure you are. Let me know in the comments section.
Also, remember to follow me on Twitter for more Cancelled and renewed shows news such as this renewal for Rookie Blue by ABC.
Comments
comments