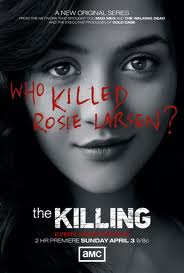 The Killing has been one of the most hyped new shows of the season, and it was also one of the most deservant of the hype; after all it is a great show, one of the the biggest new additions, alongside Camelot, The Borgias, Breakout Kings and some other.
But it was also the last one of these big new shows to get the renewal order, and today, when there´s only one more episode left to air, AMC renews The Killing for season two.
It should not come as a surprise to anyone, since The Killing has averaged around 2 million viewers per episode, numbers on par with AMC´s juggernaut Mad Men.
It appears that creators have several seasons in their heads already planned, so the mistery of this season will definitely be unveiled in Season Finale and we will know Who Killed Rosie Larsen.
So, after AMC renewed The Killing for a second season, the mistery now is what the mistery of season two will be? Who among the cast will be back for season two, other than Sarah?
We´ll see… so far I´m happy AMC renewed The Killing.
What do you think about this? Are you happy AMC renewed The Killing for a second season? Let me know in the comments section.
Also, remember you can follow me on Twitter for more renewed as The Killing Show news.
Comments
comments