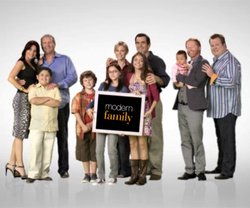 We are reviewing all the cancelled shows and renewed shows of 2011. And the year came out in its first week already giving way to a couple renewals. Second week of the year, is full of renewals. ABC renews Modern Family for a third season. In this case, the same day as Pretty Little Liars renewal order for second season, Secret Life of the American Teenager renewal, Castle renewal, Grey´s Anatomy renewal, Private Practice renewal, The Middle renewal and Cougar Town renewal. Modern Family renewal for season three comes with no shock at all to anyone since Modern Family is the highest-rated comedy series on TV among adults 18-49. The most coveted ratings demo.
We´ll probably see some new crazy Phil Dunphy situation, some Gloria (and Sofia Vergara) showing she´s not just looks. And that Manny, oh that Manny, best kid in TV hands down, even with Luke as a quirky second place. Cameron and Mitchell becoming more and more the favourite couple on TV. What´s more to say about Modern Family?
What is for sure is we´ll get to see more hilarious stuff and much more Dunphys and Pritchetts.
So, what do you think about Modern Family renewal for third season? Will you watch it? Let me know in the comments section.
Also, remember to follow me on Twitter for more Cancelled and renewed shows news such as this renewal for Modern Family by ABC.
Comments
comments