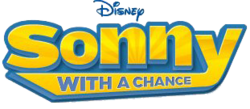 We are reviewing all the cancelled shows and renewed shows of 2011. The same day as HBO renewed Game of Thrones for a second season,  BET renewed The Game, and renewed Let´s Stay Together. And this time, since Demi Lovato is exiting Sonny with a Chance to focus on her singing career and to deal with Bipolar syndrom she announced today. Disney cancelled Sonny With a Chance as a logical follow up thing to do when the star leaves. But, and here is where folks at Disney got creative, they are spining it off to a show within the show, and renewed Sonny With a Chance by renaming it So Random!.
Good for Disney saving the show and the rest of the cast and crew!
"I don't think going back to Sonny would be healthy for my recovery," Demi Lovato told People Magazine "Being in front of a camera would make me nervous."
Sonny With a Chance will be revamped as a sketch comedy program titled So Random!, to premiere in June in Disney.
What do you think about Sonny with a Chance cancellation? How about the pickup by changing it to So Random!? Let me know in the comments section.
Also, remember to follow me on Twitter for more Disney scoop.
Comments
comments