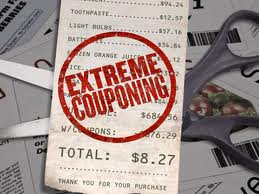 Saving money in times of crisis? Well, that´s something everybody needs to learn more about, right?
Well, that´s exactly what folks at The Learning Channel are betting, and people at home reacting to.
TLC renews Extreme Couponing for season two, and production already began for a premiere around september.
Averaging very solid 1.9 million viewers for the network, the show has earned a second season consisting of 12 episodes, and the first season still has two more episodes in the can yet to air; one featuring a lady who wants to buy 3.100 dollars worth of merchandise using only one hundred dollars, and also how another woman uses her coupons skill to home school twins.
TLC´s general manager Amy Winter said for the record: "The series is creating even more super shoppers and we are lining our shelves with their remarkable stories."
It´s no wonder TLC renews Extreme Couponing for a second season. After all it is a show that strongly resonates to the times we are living, and if a TV show can teach people how to cut some expenses, it will definitely have a spot on TV for a while.
What do you think? Are you happy TLC renewed Extreme Couponing for a second season? Let me know in the comments section.
Also, remember to follow me on Twitter for more renewed as Extreme Couponing Show news.
Comments
comments