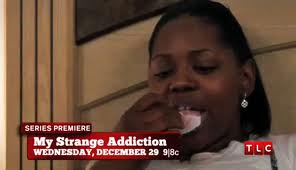 We are reviewing all the cancelled shows and renewed shows of 2011
And the year came out in its first week already giving way to a couple renewals.
TLC renews My Strange Addiction for a second season; and it should not surprise anyone since the has performed well for the network, averaging 1.8 million viewers.
The renewal order for My Strange Addiction by TLC is at the doorstep of next week's season finale, audiences will meet Kimberly, a young woman addicted to laxatives, and Bianca, a woman addicted to eating pottery and cigarette ashes.
What is My Strange Addiction About? Plot
My Strange Addiction is a TLC documentary television series about people with unusual obsessive behaviors. These range from eating specific non-food items and ritualistic daily activities to bizarre personal fixations or beliefs.
Despite the title of the show, none of the show's subjects have what would medically be classified as true addiction, neither conventional (substance-related) nor behavioral. Rather, the cause of their behavior varies and may include a variety of psychiatric diagnosis.
What do you think? Are you happy that My Strange Addiction gets renewed by TLC for a second season?
Will you watch it? Let me know your thoughts in the comments section.
Also, remember to follow me on Twitter for more cancelled and renewed shows news like this one about My Strange Addiction renewal by TLC.
Comments
comments