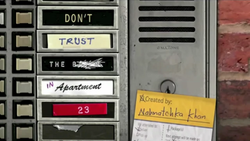 More information to fill the lists for cancelled shows of 2012 and renewed shows of 2012.  This time a new show getting a callback. One that I wasn´t so sure when I read the synopsis, but hey, I don´t like Psych Synopsis and it´s my favourite show on TV.
ABC renews Don´t Trust the B… in Apt 23 for season two, and it´s good news because the show is actually funny, and James Van Der Beek is making a case for a funny character playing himself. A great caricature.
In Don´t trust The B… in Apt 23, a wide-eyed Midwestern girl moves to New York City to pursue her dream job only to find herself living with an outlandish girl with the morals of a pirate. June's (Dreama Walker) well-planned well-organized life takes a drastic turn when she arrives in New York to find that the corporate finance job she moved there for no longer exists. As she tries to navigate her newly single life in the big city, her Midwestern scruples are constantly put to the test by her wild and sophisticated party-girl roommate Chloe (Krysten Ritter) and Chloe's best friend, the actor James Van Der Beek (James Van Der Beek). The two girls form an unlikely friendship that leads them both to unexpected places and often-illegal experiences.
What do you think? Are you happy that Don´t Trust The B… in Apt 23 got renewed? Let me know in the comments section.
Also, remember to follow me on Twitter for more scoop about shows getting renewed as Don´t Trust The B… in Apt 23 did.
Comments
comments