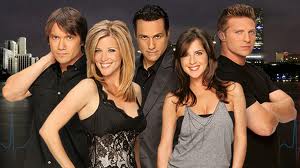 More information to fill the lists for cancelled shows of 2012 and renewed shows of 2012.  And this one comes as a big sigh of relief for soap opera fans after a brutal last year that saw the cancellations of One Life to Live and All My Children. But now, ABC renews General Hospital for the fiftieth season. Now that´s a milestone!
When the show starts airing in 2013 it will mark a fifty years uninterrupted run for it. It is the longest-running U.S. soap opera currently in production.
The renewal for General Hospital comes on the heels of GH drawing 2.26 million viewers for the week of March 26, a up a tenth from the previous week.
I usually do the whole What is the show about, with the plot synopsis, but let´s face it… if after fifty years you don´t know what is it all about, you will never catch up; and also, there have been so many storylines that I could not possibly list all of them in this article.
What do you think? Are you happy that General Hospital got renewed for season fifty? Let me know in the comments section.
Also, remember to follow me on Twitter for more scoop about shows getting renewed as General Hospital did.
Comments
comments