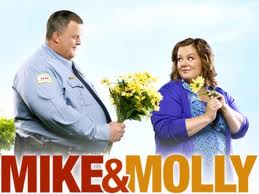 Here I have more info to add cancelled shows of 2012 and renewed shows of 2012, and today was a very big day in the renewal front, all coming from CBS that renewed a jaw dropping 18 shows to come back next season. We will review here one by one, fourteen of those that hadn´t been already renewed previously.CBS renews Mike & Molly for third season. The show started in 2010 to some mixed reviews, but once it moved away from the constant fat jokes it actually turned out to be a very solid sitcom with lovable characters, even earning some awards love. It was good on the ratings too, earning CBS to renew Mike & Molly for season three.
What is mike & molly About? Plot Synopsis
Set in Chicago, Illinois, the series follows two overweighted people, Mike Biggs (Billy Gardell), a police officer who's looking to shed some pounds, and Molly Flynn (Melissa McCarthy), a fourth-grade teacher, who meet at an Overeaters Anonymous group and become a couple. However, they also have to deal with the comments, jokes, and criticism from Mike's fast-talking partner Carl McMillan (Reno Wilson) and sarcastic mother Peggy (Rondi Reed), and Molly's mother Joyce (Swoosie Kurtz) and sister Victoria (Katy Mixon), Carl's Nana (Cleo King), Carl's girlfriend Christina (Holly Robinson Peete) and Abe's restaurant employee Samuel (Nyambi Nyambi).
What do you think? Are you happy CBS renewed Mike & Molly for third season?
Also, remember to follow me on Twitter for more shows getting renewed as Mike & Molly did.
Comments
comments