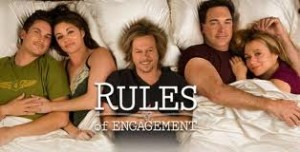 More information to fill the lists for cancelled shows of 2012 and renewed shows of 2012. And this is also called an "insurance" pickup. You have a show that performs well and it doesn´t matter when; it can move from one day to another, one timeslot to another, and can be called upon need to step in at any given time, and will work. It won´t blow the socks off of any suit at the network. But it will perform well, and it won´t be too pricey, and hey, now it can even get to syndication.
All that is to say that CBS renewed Rules of Engagement for season seven of a show that has been cheating cancellation for a long time, and ultimately ends up serving as the emergency backup plan to any sitcom that goes wrong. CBS renewal order for Rules of Engagement Season Seven consists of thirteen episodes, making the show 100 episodes long, and therefore hitting syndication magic number.
The show will be held back until midseason, or at least until it is needed to fill in.
It´s the Manu Ginobili / James Harden of TV Shows. It starts the game in the bench, but you know it´ll end up playing and delivering when needed.
What do you think? Are you happy that Rules of Engagement got renewed? Let me know in the comments section.
Also, remember to follow me on Twitter for more scoop about shows getting renewed as Rules of Engagement did.
Comments
comments