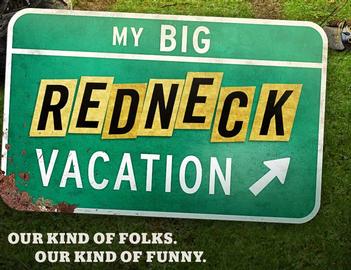 Day after day, there´s more info to add cancelled shows of 2012 and renewed shows of 2012, and this is by any means a surprise.
CMT renewed My Big Redneck Vacation for a second season, Jayson Dinsmore, Executive Vice President of Programming and Development at CMT announced today that since Bayou Billionaires, ever since the debut had solid to record numbers, becoming one of the two highest rated original series in CMT history, My Big Redneck Vacation was renewed for second season.
"'Bayou Billionaires' and 'My Big Redneck Vacation' with Tom Arnold have energized Saturday nights on CMT and become runaway hits for the network," said Dinsmore. "We've only begun to scratch the surface with both of these fantastic families and look forward to even more laughs next season from the Bayou and beyond."
MY BIG REDNECK VACATION, hosted by Tom Arnold, follows the extended Clampet family as they experience the vacation-of-a-lifetime in the Hamptons. The finales of both series will premiere on Saturday, March 31, beginning at 9 p.m. ET/PT.
MY BIG REDNECK VACATION is produced by Pink Sneakers. Kimberly Belcher Cowin, John Ehrhard and Brad Johnson serve as executive producers. Lewis Bogach and Jayson Dinsmore serve as executive producers for CMT.
What do you think? Are you happy CMT renewed My Big Redneck Vacation for season two?
Also, remember to follow me on Twitter for more shows getting renewed as My Big Redneck Vacation did.
Comments
comments