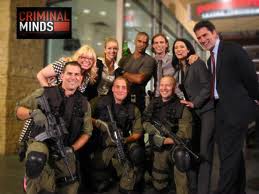 Seems like it is a never ending task to keep up with all the cancelled shows of 2012 and renewed shows of 2012, and this week it got very busy in the renewal front, all coming from CBS that renewed way more than a handful of shows to come back next season in a single announcement. I am reviewing one by one, fourteen of those that hadn´t been already announced as renewed previously.CBS renews Criminal Minds for an eighth season. This one has been looking solid for seven seasons; never being the number one, but always delivering, even going through several cast changes. So, the solidness of the show is enough as to grant Criminal Minds getting renewed by CBS.
What is criminal minds about? Plot Synopsis
Criminal Minds is an American police procedural television program that premiered September 22, 2005, on CBS. The series follows a team of profilers from the FBI's Behavioral Analysis Unit (BAU) based in Quantico, Virginia. The BAU is part of the FBI National Center for the Analysis of Violent Crime. Criminal Minds differs from many procedural dramas by focusing on the criminal rather than the crime itself.
What do you think? Are you happy CBS renewed Criminal Minds for season eight?
Also, remember to follow me on Twitter for more shows getting renewed as Criminal Minds did.
Comments
comments