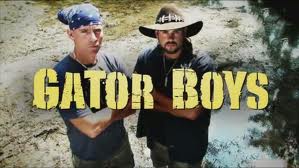 More info to write about if I want to catch up post Olympics to what happened non sports-wise; so it´s time for more to add to the lists of cancelled shows of 2012 and renewed shows of 2012. Animal Planet renewed Gator Boys for a new season. 
In its first hit season, Animal Planet's GATOR BOYS introduced us to Paul Bedard and Jimmy Riffle – two men who defy death capturing alligators with their bare hands. In season one, which averaged nearly 1 million viewers (958K, P2+), the GATOR BOYS wrangled many an ornery gator in their home state of Florida – relocating countless reptiles from locales such as master bedrooms and outdoor cafés to the safety of a gator farm. In 2013, the one-hour reality series willn embark on its second season, taking the GATOR BOYS far from home as they tackle nuisance gator cases for the unwary residents of Mississippi.
It takes serious skill to do what the GATOR BOYS do. Paul is known for his commanding personality and unmatched expertise, capturing any-sized gator underwater with his bare hands. And Jimmy has been gator wrestling since he was 11-years-old, giving him the unmatched ability to handle nearly any dangerous reptile with ease.
In the second season of GATOR BOYS, Paul and Jimmy are fishes out of water – taking up residence at Gulf Coast Gator Ranch in Moss Point, Mississippi. The guys quickly learn that Mississippi gators won't be showing them any Southern hospitality – the reptiles are bigger and meaner, which means the captures are even wilder! The home of Gator Boys Alligator Rescue in Florida has run into issues with its lease so the guys take the show on the road; teaching a few willing Mississippians how to gator wrestle and continuing the rescue program on the steamy gulf coast.
What do you think? Are you happy Animal Planet renewed Gator Boys for new season? Let me know in the comments section.
Also, remember to follow me on Twitter for more shows getting renewed as Gator Boys did scoop.
Comments
comments