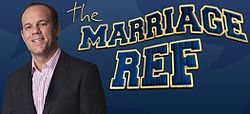 More information to fill the lists for cancelled shows of 2012 and renewed shows of 2012.  And in this case, it´s time to talk about a show that´s been off the air for a long time now, and the official announcement came: NBC cancels The Marriage Ref. This show would look better on cable I guess, maybe with GSN picking it up or something along those lines, even though moving it from broadcast to cable would mean having lesser known celebrities as refs.
The premise of the show involves real-life couples who have been having an ongoing argument. In season one, a video clip was shown to a three-member celebrity panel depicting both sides of a dispute. The celebrities made humorous observations, deliberated the merits and voted on who should win the debate. Though the Marriage Ref (Papa) took their votes into consideration, he was free to make his own decision about who was right.
In addition to the celebrity panel, season one featured a fact checker who could provide additional information to aid in the decision making. Today correspondents Natalie Morales and Maria Menounos and MSNBC's Mika Brzezinski filled this role.
What do you think? Are you sad that The Marriage Ref got cancelled? Let me know in the comments section.
Also, remember to follow me on Twitter for more scoop about shows getting cancelled as The Marriage Ref did.
Comments
comments