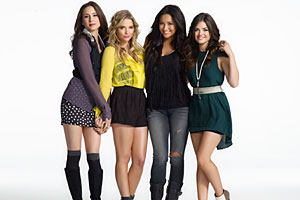 Sometimes it´s just a matter of time to have a show join our lists of cancelled shows of 2012 and renewed shows of 2012; wether because they are certainly coming back, or certainly going. This one was certainly coming back and now it´s official as ABC Family renewed Pretty Little Liars for season four of the mystery teenage drama.
Michael Riley, president ABC Family, announced today that the network has picked up a fourth season of its hit original series "Pretty Little Liars." The all new season will consist of 24 one-hour episodes that will start to air mid 2013. "Pretty Little Liars" will air a special Halloween-themed episode on Tuesday, Oct. 23rd at 8:00 – 9:00 PM ET/PT, as part of the network's "13 Nights of Halloween" programming event, and then will return with the rest of season three in January 2013.
ABC Family's #1 series of all time, "Pretty Little Liars" ranked as cable TV's #1 series of summer 2012 in viewers 12-34 (2.6 million/2.8 rating) and Females 12-34 (2.2 million/5.0 rating), the #1 scripted basic cable TV series in Women 18-34 (1.2 million/3.7 rating) and the #1 series in Female Teens (1.0 million/8.6 rating). In its time period, "Pretty Little Liars" was easily the #1 cable TV show on Tuesdays at 8 o'clock throughout the season across target 18-34, 1849 and 12-34 demos.
In the special Halloween-themed episode, entitled "This Is a Dark Ride" and airs Tuesday, Oct. 23rd (8:00 – 9:00 PM ET/PT), Aria, Emily, Hanna and Spencer are looking forward to some good old Halloween fun now that the traumatic events with Nate are behind them. But once aboard the Rosewood Ghost Train, the girls are in for much more than just some childish trick or treats. With "A" running amuck and unexpected party-goers popping up at every turn, this Halloween event becomes one killer party. Musical guest star Adam Lambert performs his songs "Trespassing" and "Cuckoo," from his latest album "Trespassing," during the Halloween festivities.
What do you think? Are you happy ABC Family renewed Pretty Little Liars? Let me know in the comments section.
Also, remember to follow me on Twitter for more scoop on shows getting renewed as Pretty Little Liars did.
Comments
comments