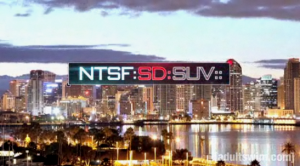 On the same day as Childrens Hospital got renewed, another show from Adult Swim joins the lists of cancelled shows of 2012 and renewed shows of 2012. Adult Swim renews NTSF:SD:SUV for season three of the satirical procedural.
The full name of the show and the task force in the procedural is National Terrorism Strike Force: San Diego: Sport Utility Vehicle, and has a cast consisting of Paul Scheer as Trent Hauser, June Diane Raphael as Piper Ferguson, Brandon Johnson as Alphonse Inuit, Kate Mulgrew as Kove, Rebecca Romijn as Jessie Nichols, Martin Starr as Sam Stern, Rob Riggle as President of the Navy and Peter Serafinowicz as the voice of S.A.M.
NTSF:SD:SUV was first featured in a set of mock promotional television advertisements aired during season one broadcasts of Childrens Hospital on Adult Swim.[2] The mock promos starred Scheer as agent Trent Hauser, along with June Diane Raphael, Brandon Johnson, and Rob Riggle. From the mock promos, the program was ordered to series with a 12-episode season. And now, Adult Swim renews NTSF:SD:SUV for season three.
What do you think? Are you happy Adult Swim renewed NTSF:SD:SUV? Let me know in the comments section.
Also, remember to follow me on Twitter for more scoop on shows getting renewed as NTSF:SD:SUV did.
Comments
comments