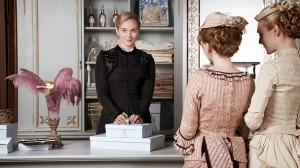 Some more info from across the pond to mantain completely updated the lists of cancelled shows of 2012 and renewed shows of 2012. In this case, another show from BBC One, who renewed The Paradise for a second season.
Bill Gallagher's BBC One hit The Paradise currently airing on Tuesday nights will return for a second series of eight episodes next year.
Made in-house by BBC Drama Productions, the period drama set in the impossibly glamorous world of the first ever department store has been attracting a strong loyal audience so far with an average consolidated audience of 5.9 million/22.5% share.
Danny Cohen, Controller of BBC One, says: "The Paradise has been the biggest new drama series on British television so far this Autumn, and it has been really interesting to experiment with period drama on BBC One beyond the traditional Sunday night slot. I'm delighted that the show will be returning for a second series, and can assure its loyal following that there are still some dramatic twists to come in the three episodes still to air this Autumn."
The popular series, adapted from the much-loved classic French novel by Emile Zola, follows smart, ambitious and big hearted Denise Lovett played by rising star Joanna Vanderham who arrives in the city to find work. The store provides the catalyst for her rags-to-riches story as she falls in love with the exhilarating and dangerous charms of the modern world and her eyes are opened to a whole new world of possibilities.
The series showcases fantastic performances from a wonderful cast that includes: Sarah Lancashire, Emun Elliott, David Hayman, Elaine Cassidy, Matthew McNulty and Patrick Malahide.
Bill Gallagher, writer and creator, said: "I'm very grateful that there's such a strong audience for The Paradise, and for the terrific support the BBC has given to the show to make that possible. It's such a great ensemble of actors and such a rich group of characters that it's an exciting prospect to have eight more episodes to make."
With three more episodes still to go, the final episode of series one will air on the 13 of November on BBC One at 9pm. Viewers will learn whether Moray (Elliott) will marry Katherine (Cassidy) or follow his heart with Denise.
Written and created by Bill Gallagher and produced by BBC Drama Production. The executive producer for the BBC is Susan Hogg and the producer is Simon Lewis. The series was commissioned by Ben Stephenson, Controller, BBC Drama Commissioning and Danny Cohen, Controller, BBC One.
What do you think? Are you happy BBC One renewed The Paradise? You can also
follow me on Twitter for more scoop on shows getting renewed like The Paradise has.
Comments
comments