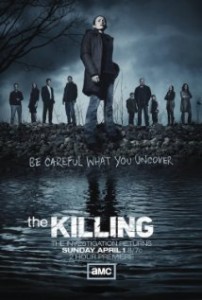 This time, it is not actually going to join either list of cancelled shows of 2012 and renewed shows of 2012. Mainly for two reasons: Number one, it has already been on the cancelled list this year, and number two, so far it´s only a strong rumor about the show coming back: AMC is negotiating with Netflix to bring back ill fated show the Killing for an unforeseen third season.
According to reports by Deadline, the production costs would be split between streaming giant Netflix and the prior home of the show, AMC, who would be bringing it back.
Even though the show has been getting modest rating numbers, this could give AMC some wiggle room, as it is getting towards the end of Breaking Bad, and Hells on Wheels, although renewed is on a grey area after the departure of its original showrunner.
The show follows the police investigation of the murder of a young girl, tying together three interlocking stories as investigators chase a variety of leads.
What do you think? Would you like to see The Killing making it back to AMC and Netflix? You can also follow me on Twitter for more scoop on shows getting renewed like The Killing may be after all.
Comments
comments