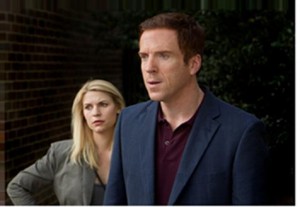 Talk about a show that we are eager to see join the list of renewed shows of 2012 and not on the list of cancelled shows of 2012, and now, it´s the official announcement from Showtime renewing Homeland for season three of the hit multi awarded drama.
On the heels of HOMELAND's biggest numbers yet, with newly-released, record-breaking across platform ratings for its second season, SHOWTIME has ordered a third season, consisting of 12 new, one-hour episodes. The announcement was made today by David Nevins, President of Entertainment, Showtime Networks Inc. HOMELAND returned for its second season on Sept. 30th, up 60 percent from its season one premiere, delivering 2.07 million viewers for the night. The season two premiere week of HOMELAND attracted 5.2 million viewers across platforms (including Live+7, DVR and On Demand), up 25 percent vs. season one (4.1 million), a series high and the best performance ever for a sophomore series on SHOWTIME. Last night, HOMELAND delivered its highest-rated episode ever with 1.75 million viewers at 10 p.m., a series high that outperformed its season two premiere (vs. 1.73 million). Four weeks into the season, On Demand has increased views of the HOMELAND season two premiere to a total of 5.7 million viewers. Season three will begin production spring 2013. The series is produced by FOX 21.
"The Emmy wins for HOMELAND have certainly set the stage for a great second season," said Nevins. "The writers, cast and crew of HOMELAND continue to create a remarkably entertaining and suspenseful roller coaster ride, growing audiences week after week. We can't wait for our viewers to experience what unfolds through the rest of season two. Our partners at Fox 21 have been tremendous, and we are thrilled to begin the planning for HOMELAND's third season."
Most recently, HOMELAND tied for the most wins of any program this year at the Emmy Awards, honored with six wins including Outstanding Drama Series, Outstanding Writing for a Drama Series, and Outstanding Lead Actress and Actor in a Drama Series. Additionally, HOMELAND has been awarded Golden Globe Awards, Peabody, Television Critics Association, AFI and Critics' Choice Awards in its freshman season. In the week leading up to its season two premiere, HOMELAND season one received 1.7 million views On Demand, the most pre-premiere viewing of a previous season On Demand in SHOWTIME series history. HOMELAND is currently filming the conclusion of season two in North Carolina.
HOMELAND is a one-hour drama series that tells the story of Carrie Mathison (Claire Danes), a CIA officer battling her own demons, who becomes convinced that the intelligence that led to the rescue of Nicholas Brody (Damian Lewis), a U.S. soldier who had been missing and presumed dead for eight years, was a setup and may be connected to an Al Qaeda plot to be carried out on American soil. The series also stars Mandy Patinkin, Morena Baccarin, David Harewood, Diego Klattenhoff, Jackson Pace, Morgan Saylor, Jamey Sheridan, David Marciano and Navid Negahban. The series executive producers are Howard Gordon, Alex Gansa, Gideon Raff, Michael Cuesta, Alex Cary, Chip Johannessen, Henry Bromell, Meredith Stiehm, Avi Nir and Ran Telem.
What do you think? Are you happy that Showtime renewed Homeland? Head to the comments to discuss.
Also, follow me on Twitter for more scoop on shows being renewed as Homeland did.
Comments
comments