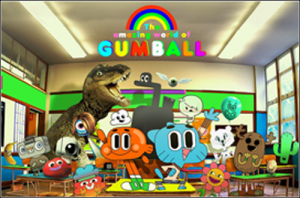 I´m still on the task of adding kids shows to keep updated both the list of renewed shows of 2012 and the list of cancelled shows of 2012, that are well over 300 shows combined. And this time, from Cartoon Network, that renewed The Amazing World of Gumball for season three to comeback in 2013.
What is The Amazing World of Gumball about? Plot Synopsis
Meet the Wattersons: Mom, Dad, Anais, Darwin and of course Gumball! He's a twelve-year-old cat with a flair for misadventure. It's The Amazing World of Gumball.
Gumball Watterson (voiced by Logan Grove): A 12-year-old male cat who repeatedly does funny things but never learns his lesson. He can get cross sometimes. He has an unbearable crush on Penny, the antlered living peanut. Despite his rambunctious behavior, he can be loyal, serious and often kind-hearted. Gumball is the main character in the series.
Darwin Watterson (voiced by Kwesi Boakye): He is Gumball's adopted brother and former pet goldfish. Eventually, Darwin began to grow legs, learn to eat food other than fish flakes, and speak human language; he subsequently became a member of the family. Due to his sudden introduction into the world, his mindset is somewhat skewed and he tends to be more naïve than other characters. Although his best friend can sometimes be a negative influence on him, he is incredibly loyal to Gumball and is really smart at times. He often helps Gumball out of any sticky situation.
Anais Watterson (voiced by Kyla rae): She is the smartest and the youngest of the Wattersons. But the adults never listened to her facts because she is the youngest. They never believed her until the episode "The Genius". Although impatient with her brother, she often tags along with him on his misadventures as a voice of reason. She also helps Gumball out of any situation. Throughout the show, she has shown to have traces of her mother's short temper.
Nicole Watterson (voiced by Pamela Adlon): A workaholic cat mother, who also works long hours cleaning the house, she is the only responsible member of the family aside from Anais. She has a short temper and can get quite angry, and is also competitive by nature. She often acts like a guide when Gumball and Darwin get in a tough spot with their misadventures. She often gets over-stressed and is normally cleaning up messes Gumball and Darwin make.
Richard Watterson (voiced by Dan Russell): A huge rabbit stay-at-home dad, he doesn't appear to have any degree of responsibility or intelligence. He usually always spends all of his time sleeping, occasionally not even bothering to get dressed. He is Elmore's laziest citizen, a title he took from Lazy Larry in the summer of 1983. He has a gigantic appetite and is a highly voracious eater. He often serves as a third-wheel to his son's misadventures and cares for his family very much.
What do you think? Are you happy Cartoon Network renewed The Amazing World of Gumball? You can also follow me on Twitter for more scoop on shows getting renewed like The Amazing World of Gumball has.
Comments
comments