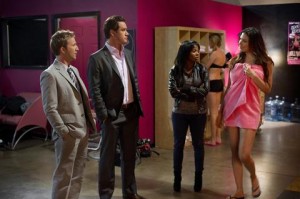 One day after TNT renewed Major Crimes, there´s another show from the cabler joining our lists of cancelled shows of 2012 and renewed shows of 2012. Now, TNT renewed Franklin & Bash for season three of the legal dramedy.
TNT has ordered the hit legal series Franklin & Bash back to court for a third season. Starring Breckin Meyer and Mark-Paul Gosselaar, Franklin & Bash averaged 4.3 million viewers in its new Tuesday 10 p.m. (ET/PT) timeslot, up 10% over its first season. The buddy drama also averaged 1.8 million adults 18-49 and 2.0 million adults 25-54.
"Franklin & Bash, with its winning cast and some of the sharpest dialogue on television, is a refreshingly clever, light-hearted take on the courtroom drama" said Michael Wright, president, head of programming for TNT, TBS and Turner Classic Movies (TCM). "We look forward to spending another season with Breckin, Mark-Paul and the rest of the terrific cast and crew of Franklin & Bash."
Franklin & Bash stars Breckin Meyer as Jared Franklin and Mark-Paul Gosselaar as Peter Bash, two young, fly-by-the-seat-of-their-pants street lawyers who caused a seismic culture clash when they joined a legendary, button-down law firm. Jared loves sticking it to authority every chance he gets. Peter, meanwhile, has a knack for connecting with judge and jury any way he can. Malcolm McDowell plays Renaissance man Stanton Infeld, the brilliant and eccentrically spontaneous patriarch of the law firm. Also starring are Reed Diamond, Dana Davis, Garcelle Beauvais and Kumail Nanjiani.
What do you think? Are you happy TNT renewed Franklin & Bash? Let me know in the comments section.
Also, remember to follow me on Twitter for more scoop on shows getting renewed as Franklin & Bash did.
Comments
comments