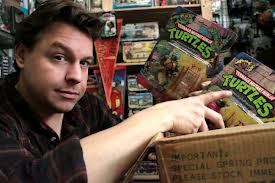 Ever since History launched American Pickers, shows about searching for stuff in messy places have become a stapler in television. And now, Travel Channel´s addition to the matter is joining the lists of cancelled shows of 2012 and renewed shows of 2012, , after Toy Hunter got renewed for season two, while also getting six more episodes added to the freshman run, as well as a holiday´s special set for December.
"We are seeing a lot of success with our popular new shows," said Andy Singer, General Manager, Travel Channel. "Whether we are revealing the secrets of how a hotel should run or what amazing finds are hidden in unclaimed baggage and property, or taking unsuspecting people on an exhilarating vacation they never saw coming, our viewers tune in to Travel Channel to be entertained, informed and inspired. Our diverse selection of fun new programming coupled with talent who have strong and unique points-of-view, are helping redefine travel entertainment."
The second season of "Toy Hunter," scheduled to premiere in 2013, will continue to follow acclaimed toy and collectible expert Jordan Hembrough as he travels across the country searching for the most sought after pieces. Throughout the new season, Hembrough will continue his quest to convince reluctant sellers, abate budgets and avoid the unforeseen roadblocks as he tracks down the holy grail of vintage toys and collectibles.
The six new episodes being added to the current freshman run will feature Hembrough in Atlanta, Boston, Houston, New York, Phoenix, Tampa and Maryland (holiday special), where he continues to rummage through cramped attics and forgotten collections on the hunt for his next big find.
What do you think? Are you happy Travel Channel renewed Toy Hunter for season two? Let me know in the comments section.
Also, remember to follow me on Twitter for more scoop on shows getting renewed as Toy Hunter did.
Comments
comments