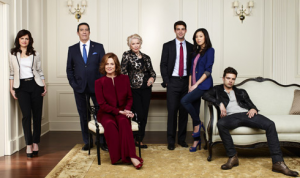 Just to try to keep the lists of cancelled shows of 2012 and renewed shows of 2012 fully updated is that I´m going to add this one. USA cancels Political Animals, or, rather, lets it stay as a miniseries as it was first intended, instead of pursuing more stories from this same plot.
In an official announcement from USA the network stated: "We are proud of Political Animals, our miniseries that attracted critical acclaim and impacted the cultural conversation this summer,"
The show averaged a little north of 3 million viewers when added Live + 7, so, by USA standards, that´s underperforming. Also, Showrunner Greg Berlanti is very busy with his breakout hit Arrow on CW, so add that as a reason for Political Animals cancellation.
"Political Animals" is a six-part limited series event that pulls back the curtain on the polished facade of a former first-family as they navigate the complex world of political and personal ambition. From acclaimed producers Greg Berlanti and Laurence Mark, the project stars Sigourney Weaver, Carla Gugino, Ellen Burstyn, Ciarán Hinds, James Wolk, Sebastian Stan and Brittany ishibashi.
So, the show was a limited miniseries and that´s what it will remain to be.
What do you think? Are you sad USA cancelled Political Animals? You can also
follow me on Twitter for more scoop on shows getting cancelled like Political Animals has.
Comments
comments