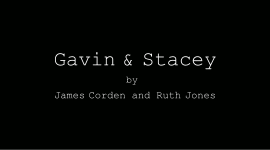 We are reviewing all the cancelled shows and renewed shows of the season.
And in this case, BBC America is planning on getting the third season of Gavin and Stacey from sibling BBC.
Gavin & Stacey is a BBC comedy-drama starring Mathew Horne and Joanna Page as the title characters. The series is written by James Corden and Ruth Jones, who also co-star in the show as Gavin and Stacey's friends Smithy and Nessa. The series is produced by Baby Cow Productions.
What is Gavin and Stacey About? – Plot
The first series (six episodes) chronicled the developing romance of the two lead characters and ended with their marriage. The second series (seven episodes) began with two back-to-back episodes on 16 March 2008 on BBC Three. Both series originally aired on BBC Three and were later shown on BBC Two and BBC One; the Christmas special was aired on the latter channel.
Although the series is set in Billericay, Essex, and Barry, Vale of Glamorgan, the two series were shot largely in Cardiff but also in Barry itself and the surrounding area, including Dinas Powys, Sully and Penarth.
In 2009 Gavin and Stacey's Rob Brydon and Ruth Jones recorded a Comic Relief single alongside Tom Jones in character as Bryn West and Nessa Jenkins.
The third series began 26 November 2009 and is showing currently, and ends on 31 December 2009 on BBC One.
Are you happy that BBC America is bringing Gavin and Stacey season three?
Also, ABC has ordered an adaptation script for a US Version of Gavin and Stacey. Let´s hope it´s more on The Office side of adaptations, and not on Coupling, IT Crowd side.
Comments
comments