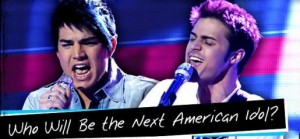 We already told you How to audition to Shark Tank, and how to audition to So You Think You can Dance. We also checked out how to audition for American Idol Season 9.
Now, it´s time to see this: Fox is now accepting video submissions for the chance of becoming the new American Idol.
Here are the rules for the video submissions as posted on FOX.com.
* You must be at least 18 years of age and not a minor in your state of residence.
* Video must be of you only.
* Do not use any copyrighted material including music.
* Do not show clothing or other materials with visible trademarks, brands or logos.
* Use a plain, nondescript background with no buildings, signs, artwork, etc.
* Videos with violent, sexually explicit, vulgar or offensive imagery/gestures/statements will not be considered.
* Videos which contain derogatory characterizations of any ethnic, racial, sexual or religious group will not be considered.
* Videos that do not adhere to the Terms of Use will not be considered, or will be altered at Fox's discretion.
* Do not use alcohol or illegal drug paraphenalia in your video.
* Do not mention specific phone numbers, addresses or websites.
To submit a video go to FOX.com/idolfans.
Comments
comments