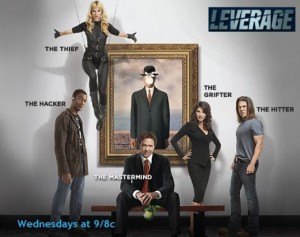 We are reviewing all the cancelled shows and renewed shows of the season.
TNT has announced the renewal of Leverage for a Third season.
Leverage is a U.S. television drama series on TNT that premiered in December, 2008. The series is produced by director/executive producer Dean Devlin's production company Electric Television. Leverage follows a five-person team of thieves, computer experts and con artists, headed up by former insurance investigator Nate Ford, who use their skills to right corporate and governmental injustices inflicted on common citizens. The team was formed in Chicago before moving to Los Angeles headquarters in Season One. Although disbanded at the end of the season, the team members gathered, then reformed in Boston after persuading Ford to lead them again, and have set up a new base in Ford's loft apartment.
The first season of Leverage consisted of 13 episodes, which writers John Rogers and Chris Downey, and producer Dean Devlin intended to be a complete story, should the series not be renewed. Second season production moved from Los Angeles to Portland, Oregon, and premiered on July 15, 2009. The second season will run in two parts: a nine-episode summer season followed by a further six episodes in the winter. No airdates for the winter half-season have been announced. On August 27, 2009, TNT announced Leverage had been renewed for a third fifteen episode season.
What is Leverage about? – Plot
In the pilot, Victor Dubenich persuades Ford, a retired insurance investigator with intricate knowledge of scams, to lead a team of talented criminals to steal back aeronautical plans allegedly stolen from him by a competitor. After a successful heist, Dubenich double-crosses them, withdrawing their payment and attempting to blow them up in an abandoned warehouse. In retaliation, the group decides to run a con on Victor, eventually exposing his corruption and implicating him in a bribery attempt, and having him arrested by the FBI. At the end of the episode it is revealed that by short-selling stock in the target company each team member made over $32 million; however rather than retire, they decide to keep working for the thrill each gets doing the work they are best at, and the added bonus of how effective they are as part of an elite team. Ford's condition for continuing is that he is allowed to select their jobs, steering them from crimes engaged in for pure profit to jobs undertaken to benefit those with a genuine need who cannot use the legal system or other 'legitimate' methods to redress their grievances. As later episodes play out, their typical client is someone victimized by an individual or corporation with the wealth and influence to avoid reprisal within the legal system. (As everyone is now independently rich, and the only real reason to continue taking on jobs is the thrill, not money, they are all more or less agreeable to this.) The episode ends with a couple mourning the death of their 17 year old daughter, who died in a similar fashion to Ford's son. Ford reassures them that while they are suffering under an enormous weight, his team "provide[s]… Leverage."
In the first regular episode, The Homecoming Job, the team (now operating as Leverage Consulting & Associates) runs a scam on the head of a military contracting firm responsible for critically injuring their client, a US Army reservist. Ford's old insurance company is mentioned in this episode. They learn that the company has stolen taxpayer money from the government, and Nathan insists they arrange to return it to the government (although they do keep a portion for the hospital treating the injured veteran.) During this episode, the team members realize they enjoy their work not just for the thrill of excelling at their criminal craft, but because they are actually doing good things and helping people who deserve to be helped.
Comments
comments