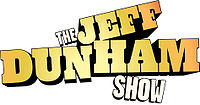 We are reviewing all the cancelled shows and renewed shows of the season.
And as far as The Jeff Dunham Show goes… well… it won´t go much farther…
Comedy Central has cancelled The Jeff Dunham Show and it won´t be back for a sophomore season.
This may or may not be a shocker.
The Show opened to a staggering 5.3 million viewers marking the biggest premiere ever for Comedy Central, but the show went down notably from there to end at 1,3 million. Just not good enough.
So, Comedy Central cancells The Jeff Dunham Show.
Althoug, Jeff Dunham is still under contract and the network has some plans for him.
We´ll let you know.
What was The Jeff Dunham Show About? Plot
The Jeff Dunham Show is a sketch comedy television series starring comedian and ventriloquist Jeff Dunham, that airs on the American cable television network Comedy Central. It premiered on October 22, 2009, and features Dunham interacting with the characters that he uses in his ventriloquism act, such as Walter, Achmed the Dead Terrorist, Peanut, Bubba J and José Jalapeño on a Stick. The first season finale aired on December 10, 2009.
Are you sad that Comedy Central cancelled The Jeff Dunham Show?
Comments
comments