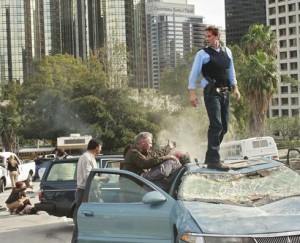 We are reviewing all the cancelled shows and renewed shows of the season.
And ABC rolled out a whole lotta news.
ABC cancelled Flash Forward.
Flash Forward cancellation by ABC came in the middle of some huge renewals and cancellation news day: Chuck got renewed by NBC, Heroes is getting cancelled, Law & Order cancellation, One Tree Hill renewal, Life Unexpected renewal, V renewal by ABC, Romantically Challenged cancellation, Better Off Ted cancellation, so…
Flash Forward gets cancelled and it´s not a big surprise since the show was quite good, but the ratings just weren´t there. But, we thought ABC was giving Flash Forward a chance to be the next Lost… not a good time to be the next anything, since both Flash Forward got cancelled (it was supposed to be the next Lost), and Happy Town got cancelled (supposed to be the next Twin Peaks)
What do you think? Are you sad Flash Forward got cancelled by ABC?
Comments
comments