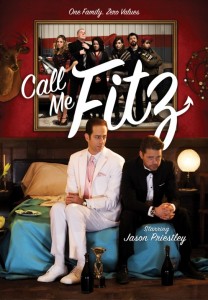 Canadians are doing some things right… one of those is doing lng term bets, and letting shows develop.
We are reviewing all the cancelled shows and renewed shows of the season.
And this time, The Movie Network renewed Call Me Fitz for a second season, and the show hasn´t even premiered!
That´s not only good news for Jason Priestley, but for all of TV and audiences, who will get the chance to watch the show develop without the pressure of instant deliver.
You will be able to know the characters, the dinamics, and everythong, because the show will stick around for a while.
That´s why I think the renewal for Call me Fitz is good news.
What is Call Me Fitz About? Plot
In this half-hour comedy, we follow Richard "Fitz" Fitzpatrick (Jason Priestley), a second-hand car salesman. Richard has a knack for having a morally unacceptable behaviour while thinking that his life is perfect. After Fitz botches a test drive and puts his latest customer in a coma, he finds himself face to face with a new salesman on the lot: Larry (Ernie Grunwald), a man with a heart of gold. Besides, Larry believes he's Fitz's conscience and that Fitz can change. However, does Fitz really want to change?
Cast of Call Me Fitz
Alongside Jason Priestley, the show also stars Kathleen Munroe, Rachel Blanchard, Brooke Nevin, Joanna Cassidy, Peter MacNeill, Donavon Stinson, Tracy Dawson, Mark A. Owen and Gillian Ferrier.
Are you glad Call Me Fitz got renewed by The Movie Network even before premiering?
Let me know in the comments section
Also, remember to follow me on Twitter for more cancelled and renewed shows like Call Me Fitz.
Comments
comments