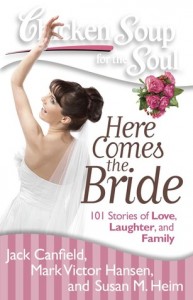 Are these magical moments that serve as the inauguration for the life to be? I don´t know, I´ve never gotten married nor I intend to (lol). The book has several stories that make me think of different TV shows such as Bridezillas or Say Yes To The Dress.
So, basically this book can be a part of my Dream Weddings Pinboard, but it is once again a book where I´m not the main target audience. Although, in this case I can truly see what the ones who actually are can find enjoyable of it. The stories have lots of humor and not just cheesiness (even though there´s quite enough).
The proposal and the ring is not as big a deal where I come from as in the US, so culturally I found several differences when I read the book to what I wsa used to seeing. (I used to work at weddings as a photographer when growing up as I needed to pay for my tuition).
A book for brides, as it would make a great gift for that instance.
Book Info
Paperback: 400 pages
Publisher: Chicken Soup for the Soul
Language: English
ISBN-10: 1935096842
ISBN-13: 978-1935096849
How to buy this book? Visit this Amazon link.
Have you read this book? Follow me on Twitter for more book reviews.
Comments
comments