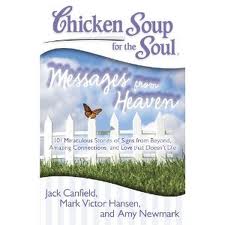 This one was hardly my favorite, as it is mainly a book about signs that family members get from almost anything that makes them think that a beloved one who is "beyond" has contacted him/her.
Maybe it´s my skepticism that arises or something, but I just did not click with the book, but I have to admit that it is probably better suited for other audiences.
I can understand the stories as a need to hang onto something rather than true signs. So I guess if it helps the grieving process for someone, it is a good thing, wether I believe or not in it is irrelevant.
It´s I guess easier for somebody who lost  someone to see a butterfly as a sign that the other person is around, but my cynical self cannot help to wonder if it was a cockroach or a rat, would they´ve thought the same? Can´t someone watch over from a nastier creature?
If you are not open to this kind of content, run away from this book, but if you are more open to the supernatural and mysticism, go ahead, it is a good read.
Book Info
Paperback: 384 pages
Publisher: Chicken Soup for the Soul; Original edition (February 28, 2012)
Language: English
ISBN-10: 1935096915
ISBN-13: 978-1935096917
How to buy this book?
Have you read this book? Follow me on Twitter for more book reviews.
Comments
comments