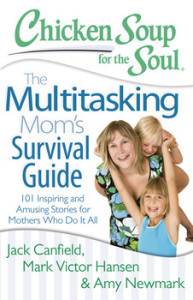 This is not the first book among Chicken Soup for the Soul collection that talks about mothers; but of course, same as mothers do tons of things, tons of books can talk about moms from different angles. In this case "multitasking moms".
The best thing about this one is that the format of the book with short stories in each chapter of a few pages alone, is that the multitasker mom can take a peek to a story, then do one of her activities, and then another chapter and so on. Not as big a commitment as other 300, 400 pages books that need to be read in continuity.
As usual with Chicken Soup for the Soul books, there are a lot of tips in the stories waiting to be unveiled.
But I liked most the funny short anecdotes about what happens to a house with several kids, such as one about a mom who was trying to sell her house and the real estate agent calls to see if it would be possible to visit the house in an hour with potential clients. Being in a hurry to sell of course she said yes, even though the house was a mess and needed at least 4 hours to a clean up.
But, as any creative mom would do, she carried everything, from dirty laundry to dirty dishes to the minivan, put everything in there, then a little freshening up of the house and voila! the potential buyers even complimented her on how tidy the house was with three kids.
More about this book, at Chicken Soup´s site. Follow me on Twitter for more book reviews.
Follow Series & TV – TV & shows scoop's board Books – Reviews and Commentary on Pinterest.
Comments
comments