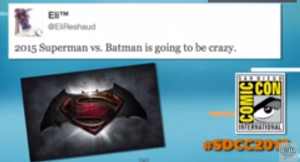 I already told you about Ora TV and its show about what´s going on in the social media universe with Daily Rehash.
But this time, the six minutes I want to show you are from the major event for TV Fans, Comic Book fans and the geeks united of the world: Comic Con.
In this video, Eric Artell welcomes everybody to Comic Con 2013 in what is the biggest convention multitargeted, and where most networks and publishers wait eagerly for the big announcements like the Batman / Superman crossover film allegedly called Batman Vs Superman.
In today´s episode, a lot of interviews, like one to Paula Garces, David Blue, Derek Mears or Shad Beast and a lot of fans being interviewed too, showcasing all the colorfull people on the Con.
And now, without further ado, The Comic Con and Nerd HQ Daily Rehash episode:
And remember, you can interact with the show on Twitter (After all, that´s where they spend most of their time) following them @DailyRehash. Also, to watch more episodes of Daily Rehash, click here to visit Ora TV!
You can follow me on Twitter for more scoop too.
This article was commissioned by Ora.tv for Daily Rehash. All opinions are mine.
Comments
comments