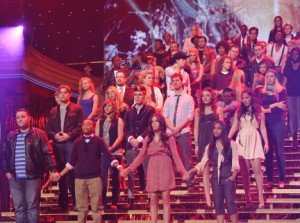 American Idol had a new outing tonight, making official the lists of contestants who made it to the live performances of season eleven. And here I´m posting the whole list of them. If you haven´t watched the episode and don´t want the spoiler, you are hereby warned that you will find the complete list of contestants in the Top 24 of American Idol Season 11.
Complete List of American Idol Season 11 Top 24 Contestants
American Idol Season 11  Top 12 Females
1. Elise Testone
2. Haley Johnson
3. Shannon Magrane
4. Baylie Brown
5. Hallie Day
6. Jessica Sanchez
7. Jen Hirsh
8. Chelsea Sorrell
9. Skylar Laine
10. Erika Van Pelt
11. Brielle Von Hugel
12. Hollie Cavanagh
American Idol Season 11  Top 12 Males
1. Eben Franckewitz
2. Reed Grimm
3. Heejun Han
4. Deandre Brackensick
5. Aaron Marcellus Sanders
6. Adam Brock
7. Creighton Fraker
8. Phillip Phillips
9. Joshua Ledet
10. Jeremy Rosado
11. Colton Dixon
12. Chase Likens
Is your favourite among Top 24? Or among the ones who did not make the cut: Aubrey Cleland
Phil Brooks, Ariel Sprague, Blaire Sieber, Cortez Shaw, Richie Lawson, Shelby Lynn Tweten, Lauren Gray, Naomi Rae Gillies, Wendy Taylor, Jermaine Jones, Latia Lee, Adam Lee Decker, Neco Starr, Clayton Farhat, Caleb Johnson.
How to Follow the American Idol 11 Contestants on Twitter ot Facebook?
Check out Rickey´s post
Who is going to be the winner of American Idol 11? Let me know your thoughts in the comments section.
Also, remember to follow me on Twitter for more American Idol 11 scoop, news and everything else.
Comments
comments