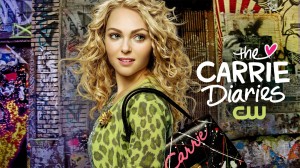 Can it become a hit like its flagship where it spun off? Probably not, but the hope is that it can evolve into a steady and bonafide solid show for CW, explaining that way why CW renewed The Carrie Diaries for a second season, after cancelling two newcomers like Cult and Emily Owens M.D. and the ending of Gossip Girl and 90210, paired to the orders for new shows like The 100, Star-Crossed (previously Oxygen), The Tomorrow People and departure Reign, the story of Mary Queen of Scots. This gave the network the abilty to go either way with this bubble show and with Nikita. Fortunately, CW renewed Nikita and also decided to give another go to The Carrie Diaries.
Pulsing with the explosive energy of the unknown and the exciting urban setting that is 1980s New York, THE CARRIE DIARIES stars the enticing AnnaSophia Robb as Carrie Bradshaw, an inquisitive and thoughtful teen coming of age in the suburbs, who is beckoned by the glamorous and gritty distant Manhattan as she maneuvers high school and asks her first questions about sex, love and loss. Based on the novel by Candace Bushnell and featuring a bright young cast, THE CARRIE DIARIES — a one-hour drama from Sex and the City writer/co-producer Amy B. Harris and Gossip Girl executive producers Josh Schwartz and Stephanie Savage — is the origin story of how Carrie Bradshaw — known and loved by audiences worldwide — became Carrie Bradshaw. With hints of her burgeoning fashion sense and love for the written word, this series is the beginning of Carrie's affair with Manhattan. Leaving the safe confines of the Connecticut suburbs, Carrie is drawn toward the City — itself the most colorful of characters — and its influence on her eclectic style and self-confidence will be paramount as she finds her way in the world, navigating friendships, family, identities and the elusive embrace of the boy she loves.
What do you think? Are you sad The Carrie Diaries got renewed? Follow me on Twitter for more scoop on shows getting renewed like The Carrie Diaries, or check the complete and updatable lists of renewed shows of 2013 and cancelled shows of 2013.
Comments
comments