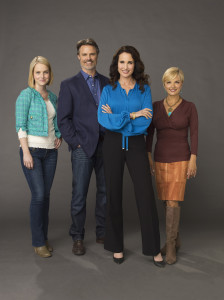 The first original series from Hallmark Channel, which turned out to be a success for the cabler is coming back for the second season quite soon, on Saturday July 19th at 8pm ET/PT, 7C.
In the second season premiere, called "Letting Go: Part One", Olivia fights flashbacks from her past as she helps Jack and his son, Eric, cope with Shelly's pregnancy health scare, while Justine and Seth must decide if their future together can be rebuilt at the restaurant.
The drama in Cedar Cove returns as Olivia (Andie MacDowell) and Jack (Dylan Neal) rush to the hospital to wait with Jack's son, Eric (Tom Stevens), as Eric's girlfriend Shelly (guest star Hayley Sales) suffers from a serious pregnancy complication. While a scared Eric angrily pushes his father away, Olivia flashes back to the last time she was in the hospital—the tragic day her son died. Even as she tries to push aside the paralyzing memories, she must remain strong for a shaky Shelly, who has made a decision about her future that could affect them all. Meanwhile, Justine (Sarah Smyth) and Seth (Corey Sevier) cope with the aftermath of the restaurant fire and a shocking development
in the federal investigation against Justine's manipulative ex-fiancé, Warren (Brennan Elliott), and decide how to move forward with the business—and with their relationship. And Maryellen (Elyse Levesque) goes to extra lengths to help a missing John (Charlie Carrick) when two mysterious men show up to track him down, posing a threat to all of Cedar Cove. Also starring: Teryl Rothery ("Grace"), Barbara Niven ("Peggy Beldon"), Bruce Boxleitner ("Bob Beldon"),
Sebastian Spence ("Cliff Harting"), Timothy Webber ("Moon") and Garry Chalk ("Sheriff Troy Davis").
For more scoop, follow me on Twitter.
Photo Credit: Copyright 2014 Crown Media United States, LLC/Photographer: Andrew Eccles.
Comments
comments