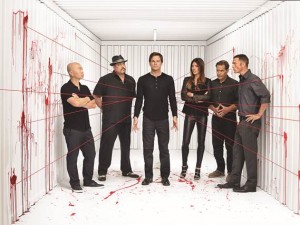 We all knew it, we all thought this was about to happen, as last year Showtime renewed Dexter for two more years, locking everybody for season eight, it was pretty clear, and even Les Moonves said it loud and clear, Dexter was going to end after season eight. And now, it´s official, Dexter ends next season, and it will go as planned creatively, something reserved only to the best shows, those who can leave while ahead, those who can quit while winning. But it will surely be missed. I´m hearing Showtime will use Dexter´s last season as a platform to launch a new show and cash in the success of it.
SHOWTIME confirmed that the upcoming eighth season of the groundbreaking series will be its final one. The announcement coincided with the release of an exclusive tease from the premiere of the series' eighth and final season, which debuts on Sunday June 30th at 9 p.m. ET/PT on SHOWTIME. The series premiered on the network on October 1, 2006 and has grown its loyal audience every season since its debut. DEXTER was the recipient of the prestigious Peabody Award, as well as 25 Emmy® and 10 Golden Globe® Award nominations, and was twice named one of AFI's top ten television series.
"When it debuted in 2006, DEXTER redefined the genre, by taking the anti-hero to new heights and pushing the boundaries of the television landscape," said Matthew C. Blank, Chairman and CEO, Showtime Networks Inc. " DEXTER paved the way for the next generation of award-winning hit SHOWTIME series, and its cultural impact will be felt for years to come."
"DEXTER is a landmark franchise for our network, and we cannot wait to unveil the conclusion of this series, as we know it, to the millions of passionate fans who have supported the show season after season," said David Nevins, President of Entertainment, Showtime Networks Inc. "We'd like to thank Michael, Jennifer, and DEXTER 's indomitable cast, executive producers, writers and crew for eight incredible seasons."
Watch Dexter´s Sneak Peek for Final Season Eight Video Trailer
And remember, Dexter´s final season premieres Sunday June 30th at 9PM on Showtime
What do you think about this? Are you sad Dexter is ending? Follow me on Twitter for more scoop on shows finishing like Dexter, or check the complete and updatable lists of renewed shows of 2013 and cancelled shows of 2013.
Comments
comments