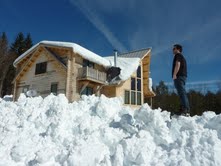 Newlyweds Fred and Natasha Ruckel have a cramped apartment on Manhattan's Upper East Side, but they're building a log cabin in New York's Catskill Mountains. It sounds romantic, but construction problems and an ambitious schedule threaten the construction of their dream house.
DIY Network's Dream House, premiering Sundays at 8 p.m. ET.
On February 6, some fearless four legged friends ruin Natasha and Fred Ruckel's first chance at serenity. As the fire trucks roll up the driveway, one has to wonder if this is a dream or a nightmare. A spa, a landslide, and a flood all stand in the way of getting their dream off the ground. Not to be derailed, Fred and Natasha push ahead with plans for the garage, only to encounter more delays that leave them out in the cold.
Then on February 13, the Ruckels still have one big challenge ahead — finishing their dream home before Natasha's parents arrive from England. Fred refuses to fail as he frantically takes on one project after another. In a last-minute push, Fred brings on longtime friends to lend a hand. Will their dreams be put on ice, or will it all go up in flames as Fred pushes the envelope with some last-minute additions that break the budget? And as the project comes to a close, one has to ask — was building the dream worth the nightmare?
Will you watch Dream House Sundays 8PM at DIY Network? Let me know your thoughts in the comments section.
Also, remember to follow me on Twitter for more Dream House scoop.
Comments
comments