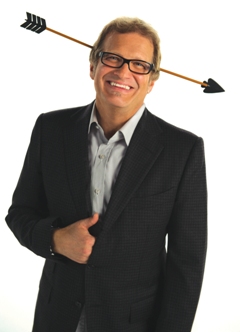 Ryan Stiles, Brad Sherwood, Greg Poops, Colin Mochrie and Wayne Brady getting back together with Drew Carey on an improv show.
I have been waiting for this ever since Whose Line is it Anyways stopped airing.
So this is a good day! I had the chance to watch Drew Carey´s Improv-a-Ganza premiere screener. And I have GSN to thank for.
You will perhaps have to wait until Drew Carey´s Improv-a-Ganza premieres on April 11 8PM on GSN.
Drew Carey´s Improv-a-Ganza, a new original, primetime daily strip show will premiere Monday, April 11, 2011 at 8:00pm ET/PT on GSN. The 40-episode series was taped during a series of live improv performances at the MGM Grand Hotel and Casino in Las Vegas in January and February 2011.
With Wayne Brady making special guest appearances, Carey and his fellow cast members create a lively, unpredictable and hilarious half-hour of improvised sketch comedy, complete with audience participation.
Cast members include: Heather Anne Campbell, Jeff Davis, Chip Esten, Kathy Kinney, Jonathan Mangum, Sean Masterson, Colin Mochrie, Greg Proops, Brad Sherwood, Ryan Stiles and Wayne Brady.
Drew Carey hosts, surrounded by the great all star of improv cast, and other than a much thinner Carey and a grayer haired Colin Mochrie, it feels as if time hadn´t passed by since Whose Line is it anyways last aired.
Oh the good times, oh the laughter.
Wayne Brady started the show with a song kicking it old school with a serenade to a lady from the audience. Jonathan Mangum joined him and seconds later Brad Sherwood, and I just know good things are going to happen here.
I still am amazed about the talent of Mr Wayne Brady.
I will give you Ten Reason to Watch Drew Carey´s Improv-A-Ganza
1- Wayne Brady is in the show: Albeit he will have special guest appearances (meaning he won´t be in all the episodes. It´s Wayne "Freakin´" Brady: Barney Stinson´s brother on How I Met Your Mother and the one responsible for most of the songs on Whose Line Is It Anyways? classic run.
2- Ryan Stiles is in the show: Yes I know, the whole Two and a Half Men thing… but he was so funny in it, he was also great in The Drew Carey Show, but those pivotal roles were just glimpses of what he can do, as we saw him when improv.
3- Colin Mochrie is in the show: He was not so famous around the states, but he was the one pushing the envelop and forcing Ryan Stiles to be great. And we also will see some below the belt punches thrown at him and his baldness. Epic!
4- Chip Esten, Jeff Davis, Greg Proops and Brad Sherwood also in: A lot of Whose Line is it Anyways occassional alums. They were not in all of the episodes back then, but they are now again on the show alongside Drew Carey´s Improv-a-Ganza dream team.
5- Drew Carey does much more than just present: Back in the Whose Line days, it always seemed as if Drew Carey was the boss and host but not the funny guy he actually is. In Drew Carey´s Improv-a-Ganza we get to see more of that.
6- 40 Episodes in the can!: It´s not just a special about Improv. It´s a whole 40 episodes season of half an hour each (21 minutes if you take out ads). That´s 20 hours of comedy and improv in its best!
7- GSN: The netwrok gave this a big vote of confidence by putting it on air primetime, starting Monday April 11 at 8PM.
8- The laughs and looks from the cast: Watching them crack up when a fellow castmember says something hilarious is priceless.
9- The family show: Stand Up comedy is quite fun, but the stand up comediennes seem to not be able to get away from the sex jokes and the disliking things. That can be fun, but it´s refreshing to see this kind of humor too.
10- Something old, something new, something borrowed something blue: There are a lot of things from Whose Line is it Anyways, and there´s your something old; there are a lot of things that they added to this show, there´s your something new; there are a lot of audience members getting up on stage to be part of the improvs, there´s your something borrowed; and there´s Colin Mochrie with a much more regular shirt, there´s your something blue.
What do you think about Drew Carey´s Improv-a-Ganza? Will you watch it premiering April 11 8PM on GSN? Let me know in the comments section.
Also, remember to follow me on Twitter for more Drew Carey´s Improv-a-Ganza scoop and spoilers.
Comments
comments