We are reviewing all the cancelled shows and renewed shows of 2011. And while tonight The Bachelor season finale airs, and we´ll learn who will Brad Womack pick, this is not the last we´ll see from The Bachelor. The very successful franchise has been inked for another season.
ABC renews The Bachelor for season 16 after averaging over 10 million per episode this season. So, it´s not surprising to see the show come back for a new shot at love from a hopeful single guy that has to date twenty beautiful women. It´s a hard job, but someone´s got to do it.
The 16th season of The Bachelor, just renewed, will air in 2012, and it will probably hold on to the same time and night, but it´s still too soon as to say anything but a conjecture.
The Bachelor is the one show surviving among others that started around the same time with a similar kind of celestine ways, as Joe Millionaire and others.
There will be more roses to be handed from a yet to be cast Bachelor.
What do you think? Are you happy The Bachelor got renewed by ABC for season 16? Will you watch it?
Let me know in the comments section.
Also, remember to follow me on Twitter for more cancelled and renewed shows news such as this renewal for The Bachelor.
Update: Brad Womack Chose Emily Maynard in The Bachelor Finale
What are your thoughts on that one?
Here´s the picture of the moment where Brad Womack kisses Emily Maynard after proposing to her on The Bachelor Finale.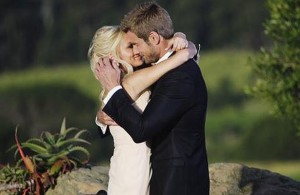 Comments
comments