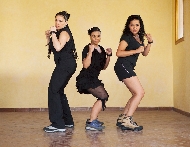 "Expedition Impossible," announced the show's 13 teams, and here at Series & TV we are introducing you to each and one of them.
Now it´s time to introduce you to the ninth team: Latin Persuasion.
Who are Latin Persuasion – Expedition Impossible Team?
Dashia Imperiale (44)
New York, NY
Fitness Instructor
Raven Garcia (30)
Bronx, NY
Freelance Writer
Mai Reyes (38)
New York, NY
Manager
Excitable, determined and full of spice, these three Latinas know how to liven up any event and come fully equipped with a "win at all costs" attitude. Friends and co-workers, these ladies are a competitive force to be reckoned with.
Will you root for Latin Persuasion in Expedition Impossible? Let me know in the comments section.
Also, remember to follow me on Twitter for more Expedition Impossible scoop.
You can also, if you are in a rush, meet all Expedition Impossible teams in these two videos.
Expedition Impossible Meet The Teams Video – Part 1
Expedition Impossible Meet The Teams Video – Part 2
Comments
comments